Every fashionista should have a bar cart in their home. Even if you don't drink alcohol, there should always be options for your guests to wet their palate with a libation or two. Besides, it's always 5 o'clock somewhere, right? And a beautifully styled bar cart is the perfect excuse to engage in a home happy hour every now and then- especially now that you have these killer margarita recipes!
Styling a bar cart is nothing new, but I'm revisiting this interior design element because there are so many different ways to organize a bar cart (just search it on Pinterest and you'll see what I mean). It all starts with a blank cart or a stand up tray. You can choose either vintage or industrial. Personally, I'm partial to the vintage style in gold or brass. Search ebay, estate sales or flea markets for "vintage" bar carts. If vintage is not your style, many of the home goods or furniture stores will have modern or contemporary styles of bar carts (or a simple cart that can be turned into a bar cart as long as it has multi level storage space/shelves.
Once you've picked out the perfect bar cart, add in your favorite cocktail set (glasses and shaker), liquor (either in its original packaging or poured into stylish glass bottles), bottled water (still or seltzer for mixing), ice bucket, garnishes for drinks (lemons, limes, cherries, olives), straws, napkins, stirrers, coasters, and bottle openers.The final look should be classy and elegant. Use trays or jars to store items in an organized way. And depending on how much space you have to work with, you could even add a few bar books and a vase of fresh flowers to complete the final look.
Styled bar carts look best when placed either in a corner or against the wall. I love the look of a bar cart with a gallery wall directly above it or a framed print with a kitschy quote. Make sure you keep your bar cart dust free and well stocked. There's nothing worse than not having every ingredient needed for that special request from your guests. And if you decide not to style your bar cart for cocktails, try using one to house fresh plants for an indoor garden oasis or used as a coffee/tea cart stocked with cute mugs and all your brewing ingredients, sweeteners, syrups, creamers, and stirrers. There are lots of different options on how to effectively use a bar cart- so if you don't have one, get one!
Here are a few of my favorite bar carts currently for sale: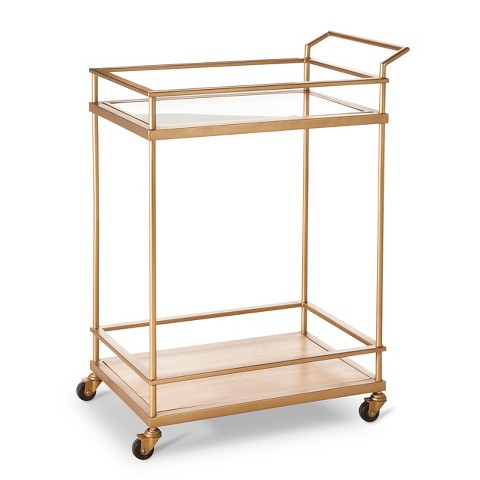 Target Threshold Bar Cart- Gold 
Woodland Imports 3 Tier Serving Cart
Overstock Sunpan Avondale Bar Cart
One Kings Lane Constantine Bar Cart
Dot & Bo Martini Hour Bar Cart
Love the way these bar carts are styled! Use these pics as inspiration to style yours!