"Bookmark" is a new series in which we recommend new books to add to your reading list. The recommendations will be mostly fiction, but occasionally we will suggest non-fiction, reference guides, and coffee table books as well. 
The Girl on the Train is an emotional thriller and a girl named Rachel who takes the same commuter train every morning. Every day she flashes past a stretch of cozy suburban homes and stops at the signal that allows her to watch the same couple eating breakfast on their deck. She's even started to feel like she knows them. Their life seems perfect. And then she sees something shocking. Now everything's changed. Unable to keep it to herself, Rachel offers what she knows to the police, and becomes entwined in what happens next, as well as in the lives of everyone involved. Has she done more harm than good?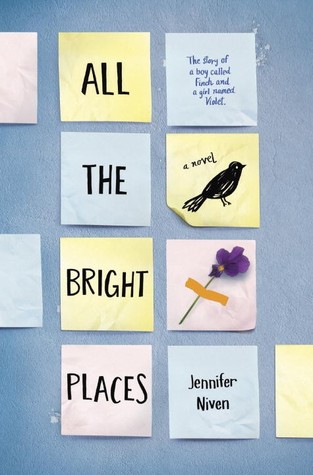 Theodore Finch is fascinated by death, and he constantly thinks of ways he might kill himself. But each time, something good, no matter how small, stops him. Violet Markey lives for the future, counting the days until graduation, when she can escape her Indiana town and her aching grief in the wake of her sister's recent death. When Finch and Violet meet on the ledge of the bell tower at school, it's unclear who saves whom. And when they pair up on a project to discover the "natural wonders" of their state, both Finch and Violet make more important discoveries. It's only with Violet that Finch can be himself—a weird, funny, live-out-loud guy who's not such a freak after all. And it's only with Finch that Violet can forget to count away the days and start living them. But as Violet's world grows, Finch's begins to shrink. All the Bright Places is a NY Times bestseller and soon to be a major motion picture starring Elle Fanning.
The First Wife is a thrilling new novel that will have you gasping on every page. As a child, Bailey Browne dreamed of a knight in shining armor swooping in to rescue her and her mother. As she grows older, those dreams transform, becoming ones of a mysterious stranger who will sweep her off her feet and whisk her away from her ordinary existence. Then, suddenly, there he is. Despite the ten year difference in their ages, her working class upbringing and his of privilege, Logan Abbott and Bailey fall deeply in love. Marriage quickly follows. But when Logan brings her home to his horse farm in Louisiana, a magnificent estate on ninety wooded acres, her dreams of happily-ever-after begin to unravel. A tragic family history she knew nothing about surfaces, plus whisperings about the disappearance of his first wife and rumors about the women from the area who have gone missing—and when another woman disappears, all signs point to her husband's involvement. At first Bailey ignores the whispers, even when circumstantial evidence against Logan mounts. But finally, Bailey must make a choice: believe what everyone says or bet her life on the man she loves, but is realizing she hardly knows.
An American living in London receives a phone call from a German policewoman telling him the nearly inconceivable news that his sister, Miriam, has been found dead in her Berlin apartment- from starvation. Three weeks later the man, his father, and an American consular official named Trish find themselves in the bizarre surroundings of a fogbound Munich Airport, where Miriam's coffin is set to be loaded onto a commercial jet and returned to America. Greg Baxter's bold, mesmeric novel tells the story of these three people over the course of three weeks, as they wait for Miriam's body to be released, grieve over her incomprehensible death, and try to possess a share of her suffering- and her yearning and grace.
Elsie Bovary is a cow, and a pretty happy one at that. Her long and lazy days are spent eating, napping, and chatting with her best friend, Mallory. One night, Elsie and Mallory sneak out of their pasture; but while Mallory is interested in flirting with the neighboring bulls, Elsie finds herself drawn to the farmhouse. Through the window, she sees the farmer's family gathered around a bright Box God—and what the Box God reveals about something called an "industrial meat farm" shakes Elsie's understanding of her world to its core. There's only one solution: escape to a better, safer world. And so a motley crew is formed: Elsie; Jerry (aka Shalom) a cranky, Torah-reading pig who's recently converted to Judaism; and Tom, a suave (in his own mind, at least) turkey who can't fly, but who can work an iPhone with his beak. Toting stolen passports and slapdash human disguises, they head for the airport. David Duchovny's charismatic creatures point the way toward a mutual understanding and acceptance that the world desperately needs.